Should You Allow Your Child to Play Football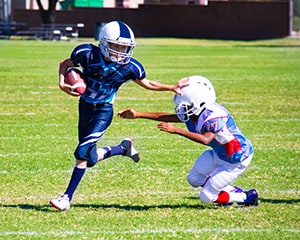 Football is the most popular team sport in the United States. However, in recent years, youth participation in the game has declined. A significant reason why is football's link to serious long-term health risks such as Chronic Traumatic Encephalopathy (CTE). If you have a child who wants to play football you may be asking yourself if you should let them play.
The only person who can decide to let your child play football is you. However, please inform yourself on potential football-related injuries before coming to a decision. You should also consider delaying your child's entrance into tackle football until they reach their high school years. If your child wants to play football before high school, flag football is an option. If you decide to let your child to play tackle football before their teens, please consider safety measures that can minimize serious injuries they may sustain on the field.
Football-Related Injuries
Hard hitting tackles have historically been a crucial, yet dangerous, part of football. They are the primary reason why injuries are extremely common. The most common injuries are traumatic injuries, concussions, overuse injuries, and heat injuries.
Traumatic Injuries
Traumatic injuries are physical injuries that happen suddenly and require immediate medical attention. It can cause systemic shock known as "shock trauma." Traumatic injuries sustained from playing football commonly occur in the knees and shoulder. With respect to knee injuries, many affect the anterior or posterior cruciate ligament (ACL/PCL) or the meniscus. Football players are also at high risk for ankle sprains because of the playing surface. Shoulder injuries are also very common, especially in both offensive and defensive linemen because the position demands blocking.
Concussions
Concussions are extremely common in football. It is very common for players to experience many of them throughout their playing years. Football-related concussions primarily result from tackles that target the head. They are usually not life-threatening but can result in long-term health problems. Concussion signs include headache, dizziness, nausea, concentration difficulties, and blurry vision.
CTE
Repeated concussions can result in Chronic Traumatic Encephalopathy (CTE). This is one of the most serious and common long-term effects of playing football. Players can experience repeated blows to the head throughout their football playing. CTE is a brain disease resulting from repeated head trauma. We have yet to understand the condition, and there are no known cures for it. Symptoms include impaired cognition, depression, short-term memory loss, difficulty carrying out tasks, and emotional instability. It also results in permanent brain damage. CTE can also lead to other neurodegenerative diseases such as Alzheimer's, ALS, and Parkinson's.
Overuse Injuries
Football is a very physically demanding sport that tires players out significantly. Players can sustain back injuries from overuse. In addition, the game can be very physically demanding that players may have "trained beyond the ability for the body to recover." A common example of an overuse injury is knee pain.
Heat Injuries
Heat injuries are very common during the beginning of training camp, which usually starts in August. Intense physical activity combined with high temperatures and humidity can result in extreme dehydration and muscle cramps. If players are not cooled down or well hydrated, they can get heat stroke, which can be fatal.
Delaying Your Child's Participation in the Tackling Game
Delaying tackle football until your child is in their teens could potentially reduce the risk of developing serious long-term neurological issues. Starting children with tackle football early has been linked to earlier development of such issues. According to a study published in the Annals of Neurology, children who played tackle football before 12 years of age experienced neurological issues earlier than children who played after. While you may permit your child to play tackle football at a younger age, please consider this study when coming to a decision.
A significant concern about delaying a child's participation in tackle football is that it might affect the playing quality. However, delaying a child's participation in football does not necessarily affect one's future success in the game. NFL superstar quarterback Tom Brady was not allowed to play football until he was 14 years old. He never played Pop Warner football, a tackle football program for children ages five to fourteen. Tom Brady's father, Tom Brady Sr., did not permit him to play organized football until high school because they "didn't think he was physically developed enough to play the sport." Despite starting tackle football at fourteen, Brady Jr. went on to win five Super Bowl championships and is a surefire Hall of Famer. He is proof that delaying your child's participation in tackle football does not hurt future success. If your teen works hard to learn the game, they can offset their inexperience.
Flag Football
If your young child is desperate to play, please consider flag football. Instead of tackling, players end football plays by removing flags that are attached to each player. It is a safer and less physical game than tackle football. In addition, flag football is also less expensive than tackle football. It does not require helmets and pads. Flag football allows your child to learn many football fundamentals without having to tackle.
If You Decide to let Your Child Play Tackle Football Before Their Teens…
If you decide to let your child play tackle football at an early age, please take safety precautions to minimize potential injuries that may be sustained from playing football. Much of this involves having the appropriate equipment and learning a safer way to tackle.
Equipment
Before your child enters the field, make sure they have the proper equipment. These include a helmet, pads, and shoes. Wearing the right equipment can prevent injuries.
Always make sure that your child has their helmet. An ideal helmet has a hard plastic outer shell and a thick layer of pattern. They must also have a rigid facemask that is made out of carbon steel. Make sure that your child's football helmet meets National Operating Committee on Standard for Athletic Equipment (NOCSAE) standards. You can also ask your child's coach or a sporting goods store employee on the best helmet for your child.
Pads are another important piece of equipment that your child must have on them. They must have shoulder pads made out of hard plastic and thick padding. They must also get pants that have leg pads. The pads can either snap into place or fit into pockets meant for pads. Make sure those pads protect their hips, thighs, knees, and tailbone.
Shoes are also important as different leagues have different regulations on what kind of shoes and cleats your child can wear. As football is mostly played on either natural grass or AstroTurf, cleats are necessary for traction. Check league guidelines to determine the right shoes for your child. Your child's coach can also give insight on this as well.
Your child must have a mouth guard as well. They must have one to protect their teeth. Many leagues require players to wear a mouth guard. Make sure to purchase one with a keeper strap that can be attached to their facemask.
Shoulder Tackling
While tackle football is a very dangerous game, it can be made safer. Shoulder tackling is an example of this. As the name implies, it involves leading with one's shoulder to make a tackle. It involves taking down a player by hitting the ball carrier's thighs, wrapping themselves over their body, and then driving them several steps back. This style of tackling is similar to rugby, whose players do not wear helmets or pads. Having little equipment required rugby players to tackle in a manner that prevented themselves from getting hurt. This is unlike football where players had felt they could lead with their head because they had protective gear. Rocky Seto, a former Assistant Head Coach of the Seattle Seahawks, developed this relatively new style of tackling.
Other Steps You can Take
There are other steps you can take to make sure your child plays football safely. Make sure your child is in peak physical condition before they play. Your child should also participate in conditioning practices. Make sure they also know the rules of the game. They must also participate in pregame warmups to help stretch their muscles. By taking these steps, your child can play football in a responsible and safe manner.
In addition, you must make sure that your child is in good hands. Their head coach must have the right qualifications. They must also be aware of any medical conditions that your child has. Before every game, there must always be someone present who is certified in both CPR and first aid. These steps can give you piece of mind when it comes to your child's safety on the field.