Emergency Preparedness
Family Emergency Preparedness Emergency Preparedness Emergency Preparedness emergency-preparedness.html Many families are ill-equipped to handle an emergency situation. Learn the best ways to keep your family safe in any scenario. emergency-preparedness.html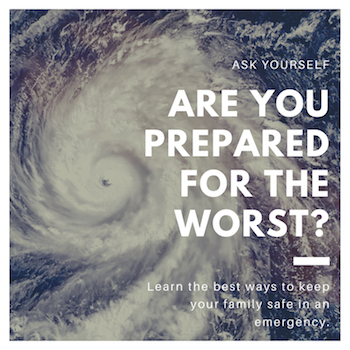 Emergency preparedness is a subject that doesn't get the attention it deserves. Families either don't want to imagine the possibility of a disaster occurring or believe there is a very slim chance of one happening to them. Most families have no plan in place for emergencies at all. Here's the reality: every family needs to be fully prepared for multiple types of emergency situations, regardless of how likely the situation is. In 2017 alone, weather-related events accounted for 592 deaths and 4,270 injuries. Disasters don't care who you are or where you live, they can affect anyone, and that's why everyone needs a plan of action. If you can't imagine exactly what you would do during an earthquake, flood, hurricane, or tornado, then you're not prepared enough. Now is the time to find out how to keep your family as safe as possible.
General Recommendations
During an emergency, stay updated on events by checking the radio, TV, or internet. Be aware that some emergencies can disable cable, electric, and cell phone service, which can make it nearly impossible to communicate.
The National Safety Council recommends downloading the FEMA app on your phone. This app provides resources, weather alerts, and vital safety tips that can help keep you safe.
Create a family plan that can apply to different emergency situations. All family members should read through and practice the plan until its familiarized.
Write down or memorize all family members' phone numbers.
Always keep an emergency kit inside your car.
Keep at least three days of food and water at home.
Have your family learn first aid and CPR.
Sources and Additional Literature
Philpott, D. (2019). Public School Emergency Preparedness. Bernan Press.
Hong, Y., et al. (2019). Media exposure and individuals' emergency preparedness behaviors for coping with natural and human-made disasters. Journal of Environmental Psychology, 63, 82-91.
Marceron, J. E., et al. (2019). Disability and disasters: the role of self-efficacy in emergency preparedness. Psychology, health & medicine, 24(1), 83-93.
Spurlock, W. R., et al. (2019). American Academy of Nursing on Policy position statement: Disaster preparedness for older adults. Nursing outlook, 67(1), 118-121.
Beatty, T. K., et al. (2019). Disaster preparedness and disaster response: Evidence from sales of emergency supplies before and after hurricanes. Journal of the Association of Environmental and Resource Economists, 6(4), 633-668.
Levac, J., et al. (2012). Household emergency preparedness: a literature review. Journal of community health, 37(3), 725-733.
Merchant, Raina M., et al. "Integrating social media into emergency-preparedness efforts." New England Journal of Medicine 365.4 (2011): 289-291.